Now On Sale …in fine bookstores everywhere or order online at AMAZON
­
Award winning author Ric Murphy, tells the extraordinary story of the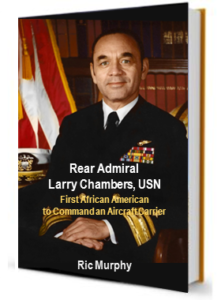 first African-American aircraft carrier commander, Rear Admiral Lawrence Cleveland Chambers (1920– ) who played a prominent role as captain of the USS Midway during the Vietnam War.
During the evacuation of Saigon—known as Operation Frequent Wind—Chambers famously ordered several UH-1 helicopters pushed overboard to make room for an escaping South Vietnamese Air Force major to land his Cessna. Chambers, who had only commanded Midway for a few weeks, gave the order believing (wrongly, it turned out) that he would be court-martialed for the $10 million loss. This biography covers his early life and military career, including his role in the desegregation of the U.S. Navy during a period racial strife.
If you like stories about perseverance, military history and professional leadership, the biography of Rear Admiral Larry Chambers, USN is a must read.
---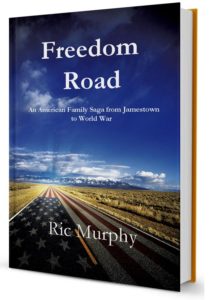 Ric Murphy's award winning book, "Freedom Road: An American Family Saga from Jamestown to World War" is an historic account of the oldest recorded African American family, and their participation and rich contributions to American history over a four hundred year period.
Freedom Road is a compilation of well-documented individual stories that begins in Africa in 1483, and from there, spans over fifteen generations and three continents, and definitively changes our understanding of American history, showcasing the significant role that one African American family has played from colonial American history to present day.
If you like history, family sagas or intrigue, Freedom Road is a must read.