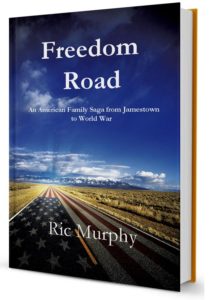 Ric Murphy's award winning book, "Freedom Road: An American Family Saga from Jamestown to World War" is an historic account of the oldest recorded African American family, and their participation and rich contributions to American history over a four hundred year period.
Freedom Road is a compilation of well-documented individual stories that begins in Africa in 1483, and from there, spans over fifteen generations and three continents, and definitively changes our understanding of American history, showcasing the significant role that one African American family has played from colonial American history to present day.
If you like history, family sagas or intrigue, Freedom Road is a must read.