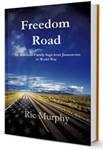 Maurice A. Barboza, Founder and CEO of National Mall Liberty Fund
This is the most important book on the struggle for liberty that will likely ever be written, given that Ric Murphy illuminates his own multi-generational family in a continuous line, from Jamestown to Your Town. Could there be another? The magnitude of this family's engagement with the implements of liberty and justice will rock whatever foundations upon which American history had been constructed since books began being written about the Revolutionary War and freedom. With an abiding love for America, this family applied a formula of patience and service to make real the promise of the Declaration of Independence. The survival of America depends on the strength of our bonds. This book will help us avoid the detours and backsliding and stay on Freedom Road.
---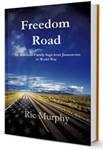 Ellen Phillips, Massachusetts
"I just finished reading Freedom Road from Forward to Epilogue and every Chapter and word in between. I loved it. It was historical, ancestral, insightful, painful, emotional, captivating and I held on to every word, which was why I couldn't put it down. I always wanted to know what happened next, which kept me reading it. I'm sorry I'm done, I wanted more. Thank you for an incredible journey, and the incredible detail and historical facts that were eloquently put together in your book entitled FREEDOM ROAD. "
---
Antonio Grullon, Florida
"I have not read, since Alex Haley's epic Roots, such a compelling book about family and American history. I enjoyed Freedom Road, I learned from it and I highly recommend it."
---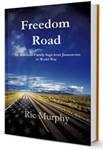 Barbara Burke, Massachusetts
"As an avid history buff and former teacher, Freedom Road is written the way history should have been written. I like how the author explored the history of the Angolans of Africa, to the indigenous Native Americans and the late to arrive to these shores, the Europeans. From the 1500's to the 1960's we live their lives, trials and tribulations before and after the landings in Jamestown, VA to Boston, MA …on the road to freedom. Excellent read!"
---
Connie Curts, Missouri
"What a wonderful book!!! Every one of all ages can readily understand and actually remember history with this book, because it has so much context and perspective. Job well done. Thank you."
---
Patricia Bush, Maryland
Freedom Road: "Terrific job of integrating family histories with the context of the time. Great writer who made genealogy and history very interesting."
---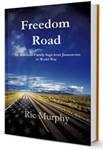 Pat Hainer, Massachusetts
"I just finished the book, thoroughly impressed with such a personalized story of such important historical events. Well done!"
---
Would you like to share your review? Please email your review here.